The latest Genshin impact 3.0 is finally announced with so many new events and of the is the Graven Innocence Event that will run from the start of the 3.0 update and will be continued since the ending of the version. Genshin Impact 3.0 update size is 14.7 GB of data on Android devices. This post is going to be all about the Genshin Impact version 3.0 release date, all items' locations & how to get them, character level-up items, materials for EXP, level-up, and ascension.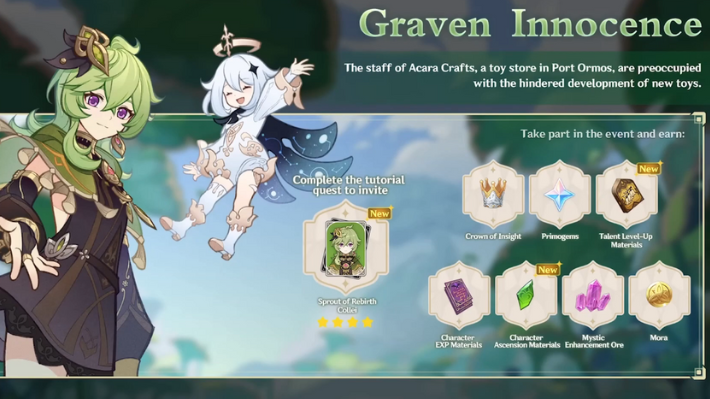 What is the Genshin Impact version 3.0 release date?
Genshin Impact version 3.0 is releasing Wednesday, August 24 till September 27, 2022, one day before the Second Anniversary. Genshin Impact version 3.0 should be playable at the following times:
8 PM PDT August 24
11 PM EDT August 24
4 AM BST August 25
5 AM CEST August 25
A new zone is going to be introduced known as Sumeru where the Dendro Archon is in charge actually. New characters are also going to be there: Tignari, Dori, and Collei.
Genshin Impact 3.0 Patch Notes
Reduction DMG inflicted by the Tyrant of the Skies in Archon Quest Prologue: Act III – Song of the Dragon and Freedom.
Less ATK of the Erstwhile King of the Skies in Archon Quest Prologue: Act III – Song of the Dragon and Freedom.
The number of platforms that collapse under the effects of the skill Caelestinum Finale Termini is reduced in Archon Quest "Prologue: Act III – Song of the Dragon and Freedom.
Changes in Genshin Impact 3.0 System Changes
They increase the "My Friends" limit from 45 to 60 and the number of party compositions that can be pre-set increased to 10.
Optimization of Wish details and Wish History menu layouts.
Updates some features in the "Paimon Menu & Feedback" system.
Talent Reference will no longer be displayed for trial characters
Players can now adjust horizontal and vertical sensitivity respectively in Camera Sensitivity and Camera Sensitivity.
New Artifacts in Mystic Offering
Adds 10 types of Artifact sets that can be obtained from Mystic Offering:
Thundering Fury
Thundersoother
Viridescent Venerer
Maiden Beloved
Archaic Petra
Retracing Bolide
Crimson Witch of Flames
Lavawalker
Blizzard Strayer
Heart of Depth
Anemo Abilities Adjusted
Elemental Skill: Kaedehara Kazuha, Jean, Sucrose, Traveler (Anemo).
Elemental Burst: Venti, Sucrose, Shikanoin Heizou, Traveler (Anemo).
Weapon Effect: The Viridescent Hunt
Genshin Impact 3.0 Graven Innocence Event
The event is going to be unlocked for anyone who is Adventure Rank 20 and above.
Complete the following quest – "The Trail of the Wisdom God" Archon Quest Chapter III: Act I
You can also complete "The Outlander Who Caught Wind" Archon Quest Prologue: Act I if you have not completed the above quest.
Genshin Impact Character Talent Materials List
Level
Dendro Gemstone
Common Materials
Local Specialty
Normal Boss Drop
Mora
20+
1x Nagadus Emerald Sliver
3x Firm Arrowhead
3x Rukkhashava Mushrooms
20,000
40+
3x Nagadus Emerald Fragment
15x Firm Arrowhead
10x Rukkhashava Mushrooms
2x Majestic Hooked Beak
40,000
50+
6x Nagadus Emerald Fragment
12x Sharp Arrowhead
20x Rukkhashava Mushrooms
4x Majestic Hooked Beak
60,000
60+
3x Nagadus Emerald Chunk
18x Sharp Arrowhead
30x Rukkhashava Mushrooms
8x Majestic Hooked Beak
80,000
70+
6x Nagadus Emerald Chunk
12x Weathered Arrowhead
45x Rukkhashava Mushrooms
12x Majestic Hooked Beak
100,000
80+
6x Nagadus Emerald Gemstone
24x Weathered Arrowhead
60x Rukkhashava Mushrooms
20x Majestic Hooked Beak
120,000
Level
Talent Books
Common Materials
Mora
Boss Drops
Crown
Level 2
3x Teachings of Pravis
6x Firm Arrowhead
12,500
Level 3
2x Guide to Pravis
3x Sharp Arrowhead
17,500
Level 4
4x Guide to Pravis
4x Sharp Arrowhead
25,000
Level 5
6x Guide to Pravis
6x Sharp Arrowhead
30,000
Level 6
9x Guide to Pravis
9x Sharp Arrowhead
37,500
Level 7
4x Philosophies of Pravis
4x Weathered Arrowhead
120,000
1x Tears of the Calamitous God
Level 8
6x Philosophies of Pravis
6x Weathered Arrowhead
260,000
1x Tears of the Calamitous God
Level 9
12x Philosophies of Pravis
9x Weathered Arrowhead
450,000
2x Tears of the Calamitous God
Level 10
16x Philosophies of Pravis
12x Weathered Arrowhead
700,000
2x Tears of the Calamitous God
1x Crown of Insight
How to Unlock Collei For Free in Genshin Impact 3.0?
Collie can be unlocked who is the new Four-star Dendro user after completion of the tutorial quest called The Meticulous Craftsmanship. You have to help a craft store in Port Ormos in Sumeru and help them produce new toys.
How to Play Graven Innocence Event in Genshin Impact 3.0?
Complete the following quests to unlock various rewards such as Primogem, Hero's Wit, Mora, Crown of Insight, Mystic Enhancement Ore, and Sumeru Talent-Up Materials.