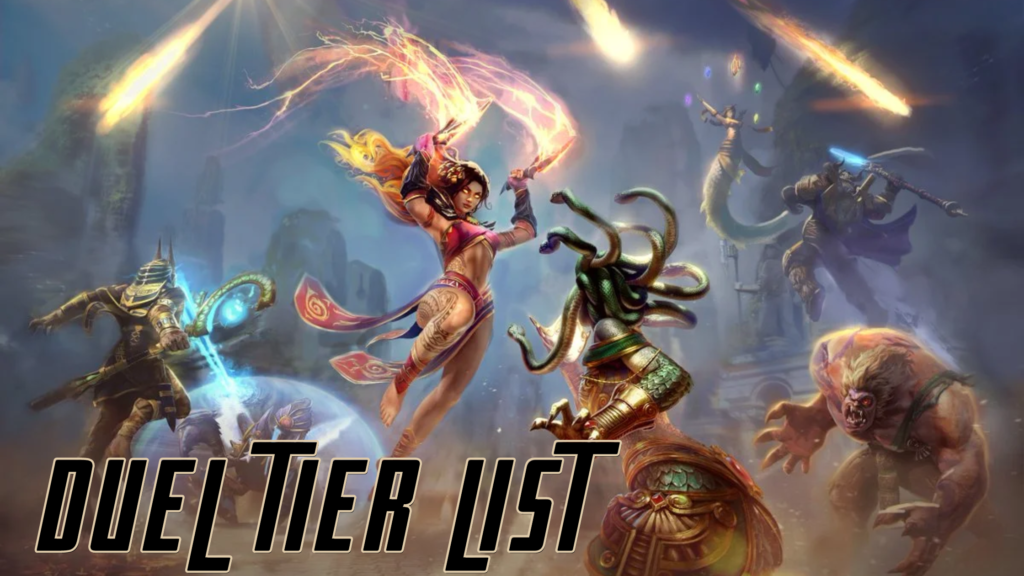 What is the SMITE DUEL Tier List?
Hello Guys, We have already done SMiTE Tier List & JOUST Tier List for SMITE posts on our blog. So, if you are looking for an overall tier list or joust-specific tier list for smite then you can browse other posts. Anyway, in this post, we are going to cover Duel Tier List for Smite.

We have generated the SMITE Duel Tier List with different accounts, regions, gameplay etc. we have calculated lots of stats to finalise the duel tier list like win rate, KDA, ban rate, pick rate, role, playtime, meta potential, and many more.
DUEL Tier List- Best DUEL GOD Tier List in SMITE
Tier 1
Athena, 
Awilix, 
Chang' E, 
Persephone

Tier 2
Chronos, 
Jing Wei,
Kumbhakara,
Pele, 
Tsukuyomi,
Izanami, 
Ullr, 
Skadi, 
Hou Yi, Freya, 
Hera,
Poseidon,
Scylla, 
Sun Wukong,
Hades,
Cthulhu,
Erlang Shen,
Eset, 
Guan Yu,
Hachiman,
Mercury,
Nemesis, 
Ratatoskr,
Susano

Tier 3
Kali, 
Chaac, 
Bakasura, 
Rama, 
Cupid, 
Danzaburou, 
Mulan, 
Anhur, 
Anubis, 
Charybdis, 
Gilgamesh, 
Tyr, 
Kukulkan, 
Ne Zha, 
Neith, 
Osiris, 
Chernobog, 
Kuzenbo, 
Ravana, 
Baron 
Samedi, 
Fenrir, 
Vulcan, 
Aphrodite

Tier 4

Baba Yaga, 
Tiamat, 
Ymir, 
Zhong Kui, 
Cliodnha, 
Camazotz, 
Achilles, 
Arachne, 
Cernunnos, 
Zeus, 
Artemis, 
Set, 
Raijin, 
Sylvanus, 
Thoth, 
loki, 
Apollo, 
Xbalanque,
Heimdallr, 
Hercules, 
He Bo, 
Ganesha, 
Morgan Le Fay, 
Nox, 
Thanatos, 
Nu Wa, 
Ra, 
The Morrigan

Tier 5
Sol, 

So, that's all about our Joust tier list. if you think you have a better idea and information about the superior tier list or if you have tested a specific unit in a specific team where it performs far better. then let us know in the comment section. we will check and add your suggestions to our list so entire communities can get benefit from the perfect SMITE tier list.