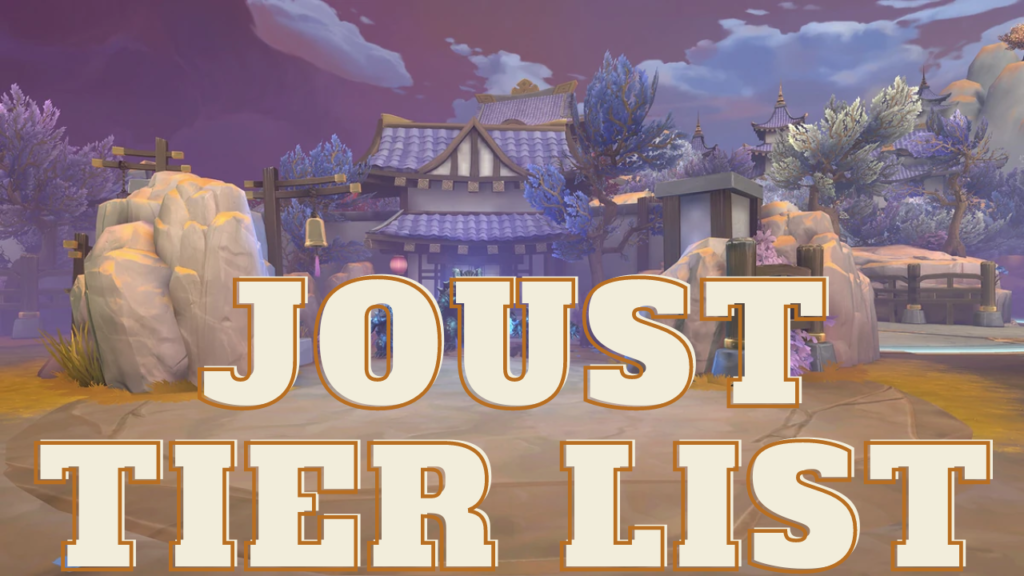 What is the Joust Tier List?
Howdy, So very quickly we are going to talk about Joust Tier List in SMITE. We are going to discuss the best one to the worst one. there are lots of SMite Joust Tier Lists already available over the internet but we are going to talk about the verified ones. We have done lots of testing on multiple accounts with different team comps specifically in Joust. So, we have come over with the average win rate.

And we are going to use our calculated win rate for SMITE Joust Tier LIST. Here is the formula and win ratio process to classify our smite tier list rating.

S Tier- 76*-100% WIN RATE
A Tier-61-75 % WIN RATE
B Tier-51-60 % WIN RATE
C Tier-41-50 % WIN RATE
D Tier-31-40 % WIN RATE
Joust Tier List Explanation
As we know SMITE has lots of gods and various classes to play. And if you are new to the game you may be wondering about the most powerful character or class of the SMITE. There are 100s of things to do in this MOBA game. We can classify the tier list for SMITE into different categories like best tier list for smite in general, best god in smite, best class in smite, class tier list in smite, smite duel tier list, and joust tier list in skite. but in this post, we are going to cover the smite Tier List in general. But we will gonna cover all other tier lists in other posts too.
The following SMITE Tier List guide ranks the Gods into the following tiers;

TIER 1- OP
TIER 2- Best
TEIR 3- Good
TIER 4- Average
Tier 5- Below Average
Joust Tier List- Best Joust GOD Tier List in SMITE
Tier 1
Ao Kuang,
Arachne,
Chernobog,
Pele,
Cliodhna,
Erlang Shen

Tier 2
Baba Yaga,
Bastet, 
Artio,
Hades, 
Jing Wei,
Ravana,
Thoth, 
Osiris,
Cerberus, 
Cu Chulainn,
Athena, 
Ah Muzen Cab,
Medusa,
Chang' E,
Chronos,
Tsukuyomi

Tier 3
Atlas, 
Ares,
Hou Yi, 
Xing Tian,
Sobek,
Zeus, 
Geb,
Cthulhu,
Aphrodite,
Persephone,
Gilgamesh,
Kukulhan,
Mulan,
Anhur, 
Ne Zha,
Guan Yu, and
Khepri.

Tier 4
Awilix,
Bacchus,
Baron Samedi,
Cernunnos,
Hun Batz,
Kali, 
Loki,
Nemesis, 
Ra, 
Scylla, 
Skadi,
Ganesha,
Vulcan,
Fenrir,
Chiron,
Morgan Le Fay, 
Vamana,
Neith,
Cabrakan,
Odin, 
Agni, 
Tyr, 
Cupid,
Olorun,
Anubis, 
Hera, 
Ymir, 
He Bo, 
Sun Wukong,
Achilles, and
Izanami.

Tier 5
Sol, 
Raijin,
Kuzenbo,
Jormungandr,
Apollo, 
Ah Puch,
Hachiman,
Nike, 
Yemoja,
Poseidon,
Discordia, 
Nu Wa,
Zhong Kui,
Nox,
Bakasura,
Fafnir, 
Freya, 
Hel, and 
The Morrigan.
So, that's all about our Joust tier list. if you think you have a better idea and information about the superior tier list or if you have tested a specific unit in a specific team where it performs far better. then let us know in the comment section. we will check and add your suggestions to our list so entire communities can get benefit from the perfect SMITE tier list.