Exoprimal: A Thrilling Roadmap of Collaborations and Updates
The eagerly awaited online multiplayer dinosaur shooter, Exoprimal, bursts onto the gaming scene with an exhilarating roadmap of collaborations and updates for its first three action-packed seasons, commencing from the game's launch on July 14, 2023. This thrilling title immerses players in a multiplayer third-person shooter environment, where they confront not only fierce dinosaurs and prehistoric creatures but also rival players in intense battles. The key to survival lies in donning powerful and awe-inspiring Exosuits, each tailored to combat the incoming dinosaur threat, and offering a diverse array of unique abilities for players to utilize.
With Exoprimal's captivating blend of Stone Age aesthetics and sci-fi elements, Capcom has ample opportunities to continually introduce fresh and exciting content to the game well beyond its launch. Players can eagerly anticipate the arrival of new Exosuits, thrilling maps, and engaging game modes, enhancing the already adrenaline-fueled experience.
In anticipation of the game's release, Exoprimal's developers provided a pre-launch primer, unveiling a roadmap that offers tantalizing glimpses of what's in store for the first three seasons. Each season, lasting approximately three months promises to be brimming with captivating content and surprises. Season 1 kicks off with the game's launch, and players can expect periodic additions of exciting new content throughout the season. The anticipation heightens with Season 2, slated to commence in October, promising even more thrilling updates for players to relish.
Prepare to embark on an enthralling journey through Exoprimal's dynamic world, where collaboration and innovation meet to deliver an unforgettable gaming experience. Immerse yourself in the Stone Age-meets-sci-fi universe, brace for intense battles, and embrace the possibilities of evolving content in this remarkable adventure. As the seasons unfold, the excitement only intensifies, and the challenges become grander – making Exoprimal a must-play title for all gaming enthusiasts seeking a riveting and ever-evolving multiplayer experience.
Exoprimal's Roadmap For Seasons 1-3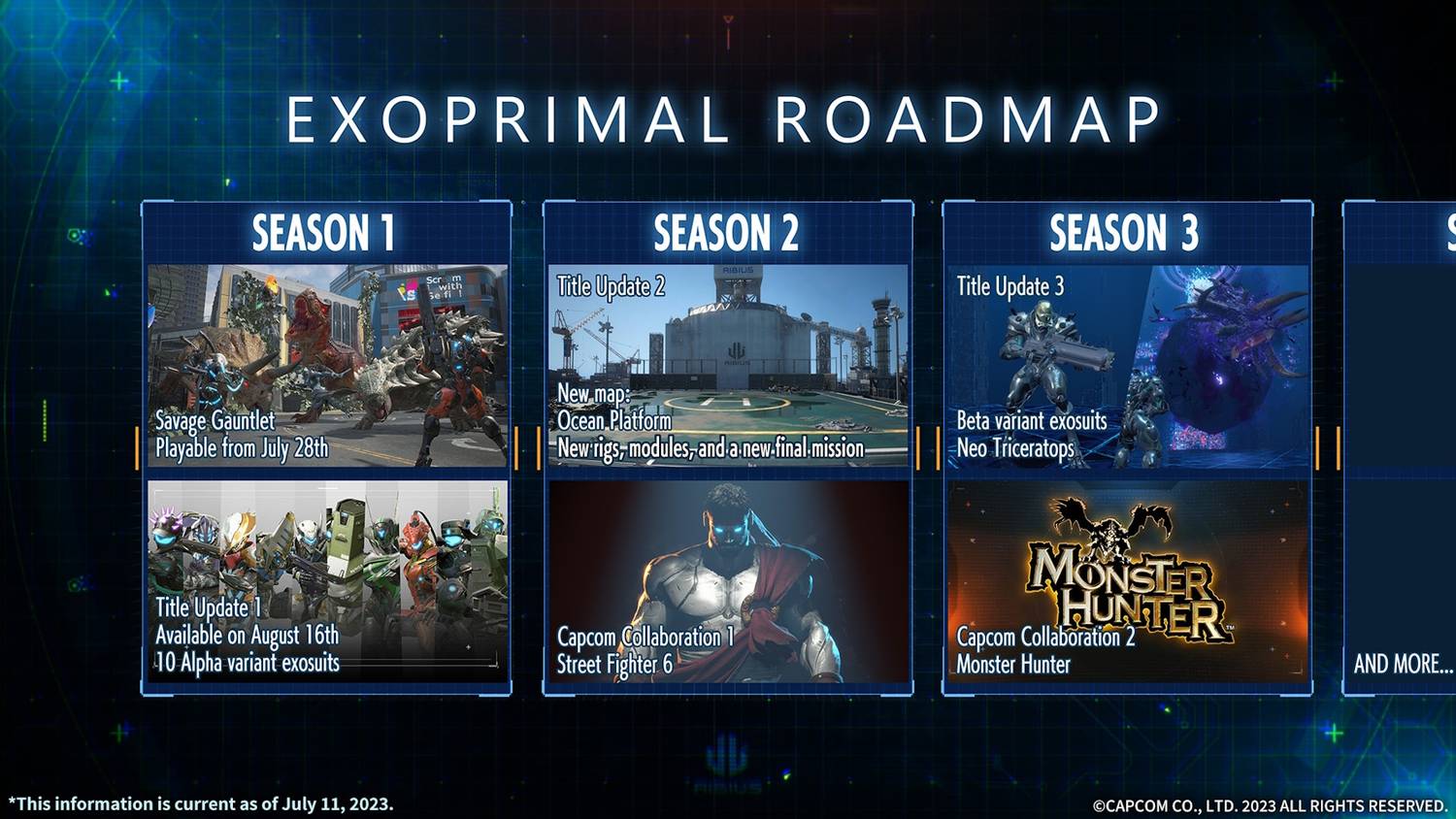 Exoprimal, the captivating Capcom title, is gearing up to deliver a plethora of seasonal content updates, features, and missions over the upcoming months, spanning the first three thrilling seasons of the game. As the adventure unfolds, players can anticipate exciting collaborations with other iconic Capcom games, including Street Fighter 6 and Monster Hunter, each offering new missions and Exosuits inspired by these beloved titles.
Exoprimal Season 1: July 14 – October 12
The journey begins with Season 1, brimming with action and challenges for players to conquer.
On July 28, the highly anticipated co-op game mode, Savage Gauntlet, will be introduced, providing an intense and cooperative experience for players to dive into.
In addition, players can anticipate weekly rotating PvE missions specifically designed for late-game replayability, ensuring endless fun and excitement.
Exoprimal Season 2: Mid-October – January 2024
Season 2 heralds new adventures and surprises, including thrilling collaborations with Street Fighter 6 and Monster Hunter.
The Street Fighter 6 collaboration event will infuse the game with fresh missions and Exosuits inspired by this iconic fighting franchise.
Likewise, the Monster Hunter collaboration event will offer exciting missions and Exosuits themed around the epic Monster Hunter universe.
The expansion continues with the introduction of a new Final Mission, adding further diversity and challenge to the game.
Exoprimal Season 3: January – April
The excitement persists with Season 3, featuring even more content and exhilarating experiences for players to enjoy.
A new Final Mission will be added to spice up the gameplay and keep players on the edge of their seats.
As the journey unfolds, players will encounter the Neo Triceratops, a formidable new monster to test their skills and mettle.
Throughout the first three seasons, Exoprimal will also introduce a myriad of enhancements and additions, such as the new Ocean Platform map, rigs, modules, Beta variant Exosuits, and 10 Alpha variant Exosuits with brand-new weapons.
At launch, Exoprimal empowers players with the freedom to select their ultimate Final Mission within the Dino Survival mode, with the choice of PvP, PvE, or a random mission to determine the ultimate victor. As the adventure progresses, the game's ever-evolving nature and exciting collaborations will keep players engaged and enthralled in the epic saga of survival and triumph.
Prepare to unleash the power of the Exosuits, forge alliances, and confront prehistoric adversaries in Exoprimal's enthralling world. Embrace the challenges that lie ahead, and join forces with friends and fellow warriors to seize victory in this action-packed and ever-expanding adventure.