If you are looking for Best Weapons In Meet Your Maker. Then Here's your step-by-step on Best Weapons In Meet Your Maker Guide
Right now, Meet Your Maker is making noises in Steam stores, gaming communities and all over the internet. if you are also playing The Meet Your Maker then you may need some guidance or tutorials to understand the basic fundamentals of the meet your maker game.
At first, Meet Your Maker seems a bit complex and difficult but you will follow the flow once you understand the basic mechanism of the game. We will provide you with different guides, tutorials and information about Meet Your Maker but in this post we will discuss the Best "Weapons Tier List" In Meet Your Maker.
Best Weapons Ranking In Meet Your Maker
There are a total of five weapons in the meet your maker. Do you really need a powerful weapon in this game? if you really need to pick the best one out of the five then which one would be worth picking? We will answer all these questions in this post and we are also going to explain the best weapon, their ranking, tier list and impact.
Players will get access to the 2 weapons when they start the game eventually. The other 3 weapons will be locked by the players themself but they need to expand the cell and part. But still, there is a question if anyone wishes to pick one and unlock a specific weapon then which weapon should be the first priority for them? 🙂
As we have discussed plenty of times in other posts as well that Meet Your Maker has very strange, unique, new and out-of-the-box gameplay. In this game, players need to follow two objectives either raid the players' outpost or create and protect their own outpost.
If you are a new player and just started the game then you can't create your own outpost because it needs some resources to create an outpost. And if you want to earn resources to create an outpost then you need to raid other players' outposts and gather material as much as possible. But, There is another problem, to make a successful run or raid on an outpost you need to solid and powerful weapon. And you should pick the weapon very carefully because you got very limited resources for it in the beginning.
Types of Weapons in Meet Your Maker
Now, We know that we need to perform many successful raids to gather material to make your first outpost. And if you want to achieve this then you need a powerful weapon. There are 2 types of weapons in the Meet Your Maker
Ranged Weapon
Melee Weapon
When you start a game you will get two starter weapons in the loadout named Volt Lancer and Sledgeblade. Volt Lancer is a ranged weapon and Lancer stands top in range weapon. Sledgeblade is definitely a melee weapon which is best in the melee category. Other weapons are not bad either but are very niche specific with their own approach.
Tier S – Volt Lancer, Sledgeblade
Tier A – Arc Barrier, Fury's Edge
Tier B – Falconic Plasmabow
Best Ranged Weapon in Meet Your Maker
There are two options when it comes to ranged weapons Volt Lancer and the Falconic Plasmabow. We got Volt Lancer free of cost in our loadout when we started the game and Volt is actually better than the Falconic Plasmabow in many departments. But Volt's capabilities to control and destroy traps from range make it the best-ranged weapon of the Meet Your Maker.
Falconic Plasmabow is not a bad option too but it potentially shades away in front of the trap detonation of Volt Lancer. However, Falconic Plasmabow is an awesome weapon if you follow the path of guardian strategy.
Best Melee Weapon in Meet Your Maker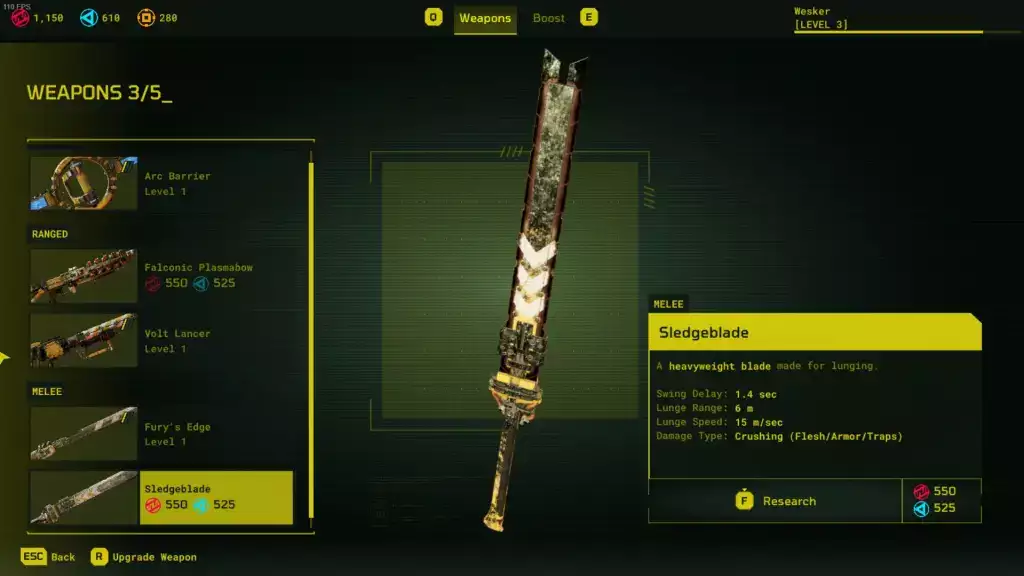 Sledgeblade is a better option when it comes to melee weapons. it can destroy the armour and will be very effective against guards in tough situations. I personally experienced that ranged weapons especially Volt Lancer perform better than all melee weapons. But still, there are some situations where Blade perform very well.
There is an issue with the sledge-blade about its speed. when you swing the blade it takes a bit of time or delays to perform the action and in that scenario, Fury's Edge becomes a better choice than the blade. Fury's Edge is a lightweight weapon and takes no delay and time to execute the attack and action. But its ability is to block the projectiles from enemies which is not better than sledgeblade.
Still, if you are facing issues with traps, projectile attacks, or unable to execute dodge properly then you may consider Fury's Edge as your first choice weapon. Last but not the least, Arc Barrier is an interesting option. it has no offensive ability but provides a super strong shield which protects the player from explosives, open-fire projectiles etc.
I have explained the ins and outs of all 5 weapons in the easiest way. Every weapon has its own specialization, strength and weakness. Now, it's completely up to you to pick the best weapon which matches your playstyle and taste. but still, I would love to suggest you go with Volt Lancer if ranged and Sledgebalde if Melee.
That's all about the Best "Weapons Tier List" In Meet Your Maker. If you like this guide you can check out our other guides on Meet Your Maker the Wilds as well.  But if you haven't already made a base then you should start right away and activate your outpost. Remember, You should know the technique to How To Change the Harvester Path In Meet Your Maker to increase the level of  Prestige In Meet Your Maker to secure and steal the GenMat.