If you are looking for How To Activate A Base In Meet Your Maker. Then Here's your step-by-step How To Activate A Base In Meet Your Maker Guide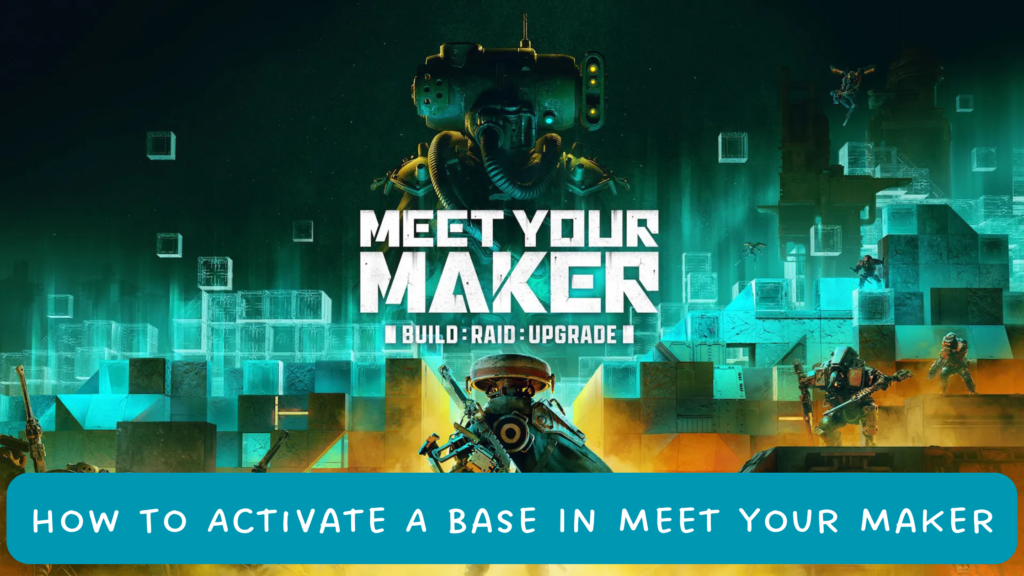 Right now, Meet Your Maker is making noises in Steam stores, gaming communities and all over the internet. if you are also playing The Meet Your Maker then you may need some guidance or tutorials to understand the basic fundamentals of the meet your maker game.
At first, Meet Your Maker seems a bit complex and difficult but you will follow the flow once you understand the basic mechanism of the game. We will provide you with different guides, tutorials and information about Meet Your Maker but in this post we are going to discuss How To Activate A Base In Meet Your Maker
How To Activate A Base In Meet Your Maker
Meet Your Maker game and the entire connect is super fun and entertaining. I personally would love to raid again and again on other players. but did you try creating your own outpost for other players and your friends? I would love to suggest you do and show your creativity with Outpost too. it's super fun, challenging and entertaining too.
if you are already enjoying it that's the best thing for you to do in the game. But if someone is unable to activate and start the base in Meet Your Maker then here is a quick guide for you to learn How To Activate A Base In Meet Your Maker.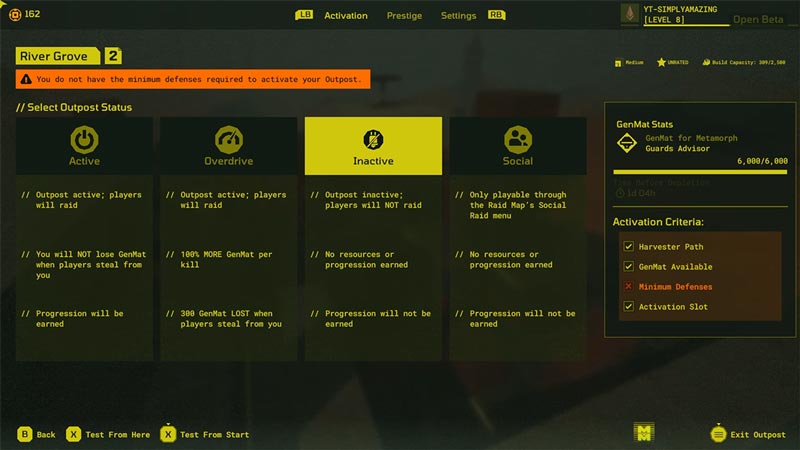 As you can see in the above image, There are 4 options in set up the status of your base named active, override, inactive and social. we will go into the details and explain each option in detail later in the post.
On the right-hand side, you can see the activation criteria which means you need to meet the minimum requirement to activate the base activations criteria:-
Harvester Path
GenMat Available
Minimum Defenses
Activation Slot
Note:- In the above snapshot, There is an error which reports the minimum defence requirement does not meet that's why this base cant be get active
Easiest Way To Activate the Base in Meet Your Maker
These are very basic steps to active the bs in Meet Your Maker without much hassle-
Setup a Base
Plan and Make a proper Harvest Path from base to GenMat
Install proper defence guards so it can't be raided so easily.
Check if you have a slot available
Done! Your Base is ready and activated!
Note:- You can have multiple bases activated at a time but you need to check and keep the records of your active bases and the number of available slots.
Explanation of Outpost Status
Active

Open to the Public and anyone can raid your base.
No harm, you don't lose your GenMat if the Raiders successfully steal it.
Progression and Prestige Points.

Override

Again Players can raid your base.
Harm, if the Raiders steal GenMat. Then you will lose 300 GenMat
But Kills gets you bonus rewards like 100% more GenMat.

Inactive

Nothing. Just Inactive Base
No Public or Player interference.
No profit No loss
Will earn nothing, no progression no points NOTHING

Social

It's kind of private server kind of thing.
It's like only friendly players in the Social Raid menu can raid your base.
No Public or Player interference.

No profit No loss
Will earn nothing, no progression no points NOTHING
That's all about How To Change Harvester Path In Meet Your Maker. If you like this guide you can check out our other guides on Meet Your Maker the Wilds as well.