Going down to the woods in Genshin Impact 3.0? Make sure to take the Dendro Bow Wielder, none other than Tighnari. He is the vigilant forest watcher, when it comes to nation's flora. Take his guidance seriously, if you don't want to much upon some poisonous mushrooms.
Genshin Impact's Tighnari is probably the first 5-star dendro character in the game that is obviously a big deal. This post is going to be all about his banner, skills and all. He manager both maintaining the land's ecology and ensurance the safety of anyone who enters.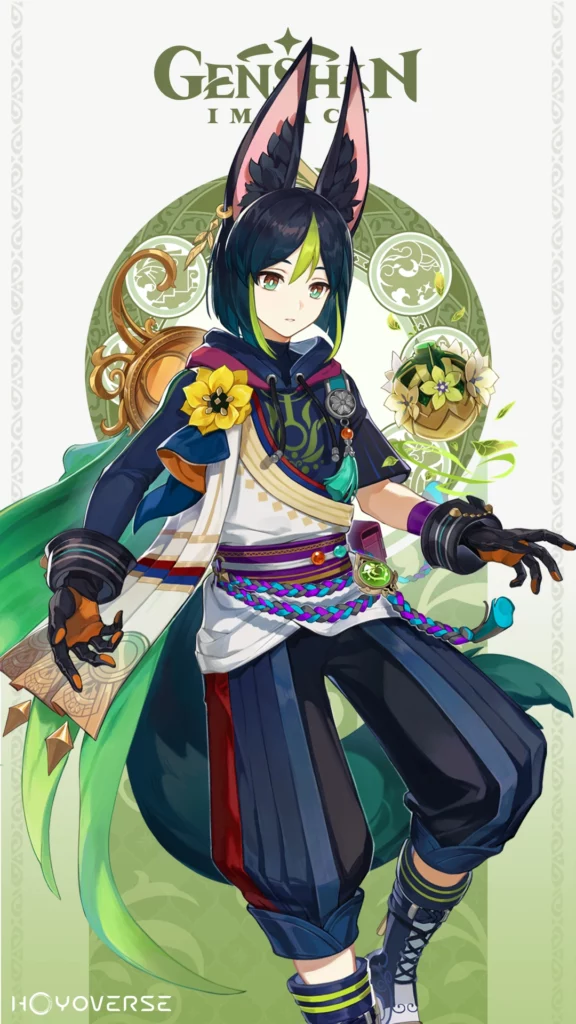 Genshin Impact 3.0 Tighnari's Stats
HP
Attack
Defense
Ascension Stat
Lvl 20
2,915
95
169
Dendro DMG Bonus 0%
Lvl 80
TBD
TBD
TBD
Dendro DMG Bonus TBD
Tighnari's Strengths and Weaknesses
Tighnari's Strengths
• Strong ranged Charge Attacks.
• Great single target damage.
• Applies Dendro from multiple sources on his toolkit.
• Strong Elemental Burst with a low Burst cost.
Tighnari's Weaknesses
• Relies heavily on level 2 charged attacks.
• Level 2 charged shot has a long windup without his Elemental Skill buff.
Tighnari's Talent Priority
Main DPS
1st
Normal Attack
2nd
Elemental Burst
3rd
Elemental Skill
Best Artifacts Ranked
Artifact
Artifact Bonuses
1st
Deepwood
2-PC: Dendro DMG Bonus +15%
4-PC: After Elemental Skills or Bursts hit opponents, the targets' Dendro RES will be decreased by 30% for 8s. This effect can be triggered even if the equipping character is not on the field.
2nd
Wanderer
2-PC: Increases Elemental Mastery by 80.
4-PC: Increases Charged Attack DMG by 35% if the character uses a Catalyst or a Bow.
3rd
Gilded
2-PC: Elemental Mastery +80
4-PC: Within 8s of triggering an Elemental Reaction, the character equipping this will obtain buffs based on the Elemental Type of the other party members. ATK is increased by 14% for each member whose Elemental Type is the same as the equipping character, and EM is increased by 50 for every member with a different Elemental Type. Each of the buffs will count up to 3 characters. This effect can be triggered once every 8s and even when not on the field.
Top 3 Tighnari Weapons
Weapon
Weapon Information
1st
Hunter's Path
Bonus Stat: CRIT Rate 9.6%
Skill Effect: Gain 12% All Elemental DMG Bonus. Obtain the Tireless Hunt effect after hitting an opponent with a Charged Attack. This effect increases Charged Attack DMG by 160% of Elemental Mastery. This effect will be removed after 12 Charged Attacks or 10s. Only 1 instance of Tireless Hunt can be gained every 12s.
2nd
Aqua Simulacra
Bonus Stat: CRIT DMG 19.20%
Skill Effect: HP is increased by 16%. When there are opponents nearby, the DMG dealt by the wielder of this weapon is increased by 20%. This will take effect whether the character is on-field or not.
3rd
The Viridescent Hunt
Bonus Stat: CRIT Rate 6.0%
Skill Effect: Upon hit, Normal and Aimed Shot Attacks have a 50% chance to generate a Cyclone, which will continuously attract surrounding enemies, dealing 40% of ATK as DMG to these enemies every 0.5s for 4s. This effect can only occur once every 14s.
Recommended Weapons for Tighnari
| Recommended Weapons | How to Get |
| --- | --- |
| Hunter's Path | Gacha |
| Aqua Simulacra | Gacha |
| Polar Star | Gacha |
| Thundering Pulse | Gacha |
| Skyward Harp | Gacha |
| Amos' Bow | Gacha |
| The Viridescent Hunt | Battle Pass |
| Prototype Crescent | Crafted |
| The Stringless | Gacha |
Tighnari Ascension Materials
| Level | Ascension Materials |
| --- | --- |
| 20 → 40 | Nilotpala Lotus x3 Nagadus Emerald Sliver x1 Mora x20,000 Fungal Spores x3 |
| 40 → 50 | Nilotpala Lotus x10 Nagadus Emerald Fragment x3 Mora x40,000 Fungal Spores x15 Jadeplume Boss Drop x2 |
| 50 → 60 | Nilotpala Lotus x20 Nagadus Emerald Fragment x6 Mora x60,000 Luminescent Pollen x12 Jadeplume Boss Drop x4 |
| 60 → 70 | Nilotpala Lotus x30 Nagadus Emerald Chunk x3 Mora x80,000 Luminescent Pollen x18 Jadeplume Boss Drop x8 |
| 70 → 80 | Nilotpala Lotus x45 Nagadus Emerald Chunk x6 Mora x100,000 Crystalline Cyst Dust x12 Jadeplume Boss Drop x12 |
| 80 → 90 | Nilotpala Lotus x60 Nagadus Emerald Gemstone x6 Mora x120,000 Crystalline Cyst Dust x24 Jadeplume Boss Drop x20 |
You guys have to trust me upon this that he has vast knowledge of flora and fauna around. What are the Genshin Impact Tighnari's Skills? He leads the bestest life of patrolling the rainforest and protecting the ecology with lecturing fools everyday all day.
Tighnari is such a versatile character to be fit in the party combinations. He is fierce and powerful too but still deals lesser damage than other characters featured. His main DPS build is his focus on increasing his overall damage from the sources. He likes to focus more on his Charged attacks and triggering the Spread Elemental Reaction. Read about Dori in Genshin Impact 3.0.