Soulstone Survivors is an Action Roguelike, if you have vampire survivors then you can easily fall in le with this game. Developers of Soulstone Survivors combined the regular Actin Roguelike game with RPG, hack and slash-like the path of exile and grind dawn.
So, as we know, many game modes are available in the soulstone survivors in which you have to face hordes of enemies. There are different maps, different achievements to complete, different builds to create and plenty of tasks to complete in various game modes.
There are plenty of modes available in the game, but in this blog post, we will talk about Endless Mode only. So, we will start from basic to end and by the end of this post we will learn each and every aspect of Endless Mode of Soulstone Survivors
Well, let's start with very basic, Endless Cycle is a game mode in Soulstone Survivors. Now time to get some ins and outs for Endless Mode, First of all, Endless mode is rewarding you can earn lots more currency, stones etc from Endless Mode. You can also unlock some new, unique and exclusive characters from endless Mode.
Remember that Soulstone Survivors is an early-access game, so the information provided here may become outdated.
In this post, we are going to cover all these aspects related to the endless mode of soulstone survivors.
What is Endless Cycle mode
Benefits of Endless Cycle mode
How to start Endless Cycle mode?
What is Endless Cycle Mode In Soulstone Survivor?
First of all, Endless Mode works like a regular map arena where you must survive and defeat 5 bosses. But after the successful completion, it will open the portal which will take you to the random map to go deep and progress further to achieve more and more levels.
Remember, each and every new arena assign a new level at the top o the screen. Which is the most important aspect of the endless mode because you will unlock new characters at a specific level in endless mode.
These are known as cycle levels However, after defeating them, the portal will take you to another random map and you can continue the fight. It is worth noting that each move to another arena will increase the counter in the upper right corner of the screen. This is important because unlocking some characters requires a specific endless cycle level.
Benefits of Endless Cycle Mode
We have already discussed that The most crucial thing to obtain through Endless Cycle is to unlock unique and new characters in different cycles/levels. Endless Cycle allows us to unlock new characters with enough progression at a specific run.
The Chaoswalker – Endless Cycle 2.
The Legionnaire – Endless Cycle 3.
To Be Noted: In You will also obtain loads of resources, materialism prestige and achievements while progressing through the Endless Cycle.
How to Start Endless Cycle Mode?
So, if you are not sure how to start Endless Arena or just looking here and there for the endless game mode option in the game and still not able to find the place to activate it. Then this portion is going to be a lifesaver for you as you are going to learn the complete process to activate an endless cycle in your account.
You have to beat the arena in less than 13 minutes with any character build, class and weapon. But whenever you want to jump inside the Endless Arena you need to finish the regular map in less than 13 minutes.
And if you successfully complete it in less than 13 minutes then the game will option 3 unique portals for you.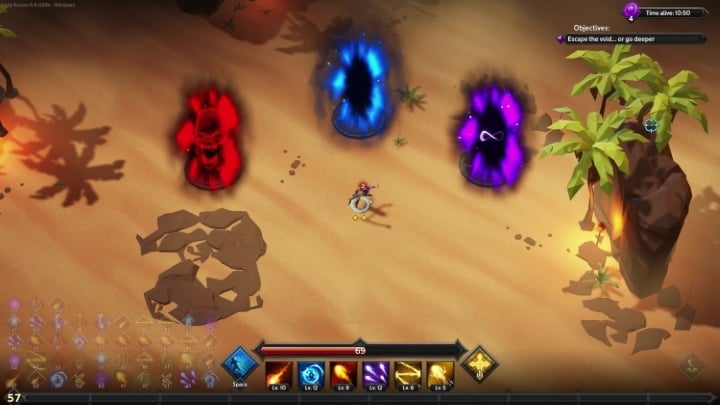 Blue Portal – This is our regular portal of the sousltone survivors game. It will make you exit the current map and end it straight away.
Red Portal – this is known as Overload Mode. we will discuss it in a different post. Stay tuned for the Overload Mode Guide
Purple Portal – This comes with an infinity symbol. And purple portal will take you to the Endless Cycle where you are going to enjoy the game a lot more. We have already explained the ins and outs of the endless arena in the above post.
This is all about our Endless Cycle Game Mode of Soulstone Survivors. If anyone got any queries then you can ask in section sections. feedbacks, help and suggestions are welcome as usual.