So, As it's buzzing the internet bit, and you bought the game for yourself. I'm not going to talk about other fundamental details about the atomic Heart. I assume you already know everything about the game. Now, the problem is, you started the campaign and started experiencing a shit load of stuttering, screen tearing and super annoying frame rate drop.
There is a very simple solution to this problem to enable the Vsynch option in settings. But in Atomic Heart, the Vsynch option is disabled/greyed out by default. You can modify the setting for Vsynch as it's disabled by default. So, in this post, I'm going to guide you through the different approaches to enable VSync in atomic heart!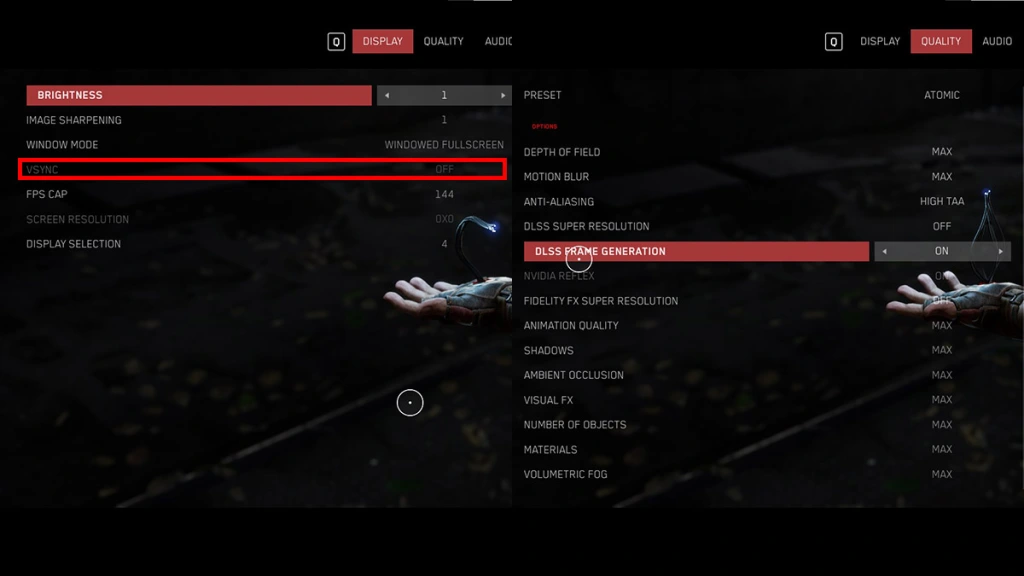 How to Enable VSync in Atomic Heart
Enable DLSS Frame Generation: when it comes to Atomic Heart, It works a bit in a strange way. As a rule of thumb, Vsnch and DLSS FRAME GENERATION do not together but things are the opposite in Atomic Heart. Because this game automatically turns on our DLSS setting by default too. you need to follow these steps to turn on or enable Vsynch.
Go to Setting.
Turn on DLSS Frame Generation.
Restart the Game
Hola! check and see if Vsynch is enabled or not.
If Vsynch is still not enabled then repeat all the steps once again!
Enable VSync for Atomic Hearts through the Nvidia Control Panel: if the first method did not work for you and if you are playing the game with Nvidia Card then you need to enable Vsynch from the Nvidia control panel.
Open the Nvidia Control Panel (not Geforce Experience) and go to the 3D settings. Enable global vertical synchronization for all games.
Enable VSync in Global Settings in the Adrenaline App (AMD users): If you are an AMD user, then you have to implement the same kind of setting in the Adrenaline app. These are very easy-to-do steps. Go to the Global setting and enable Vsynch for everything (global). You're done!
So, That's it for today and I am closing Atomic Heart How to Enable VSync now. I hope your issue is fixed now and you can play the game without any lag and fps drop. In case you have any kind of issue then do let me know in the comment section, and I'll try my best to help you out!