So, Cocogoat oooops Ganyu is finally here, and if you have already pulled her then of course you wanna level her up as much as possible. And to level up your waifu, you need lots of Qingxin Flowers to pick from the land of Teyvat. Believe it or not but it's a bit hard to collect Qingxin Flowers in the vast and huge map of Liyue. And For that, all you need is Qingxin Flowers Farming Locations and Route to make things easier for you. 
Therefore, Here is the guide on how and where to find Qingxin Flowers in Genshin Impact. This guide will deliver you a single-dimensional route and location to farm Qingxin Flower on different zones and teleports. 
With assistance from this guide, you will be able to gather 54 Qingxin Flowers in 6 different locations. You may find even more Qingxin Flowers in other spots but those are not rewarding and come with less quantity. One should follow the exact route and locations to maximize the outcome of Qingxin Flowers in less time. Kindly keep following to find out the exact locations of qingxin flowers with a visual explanation.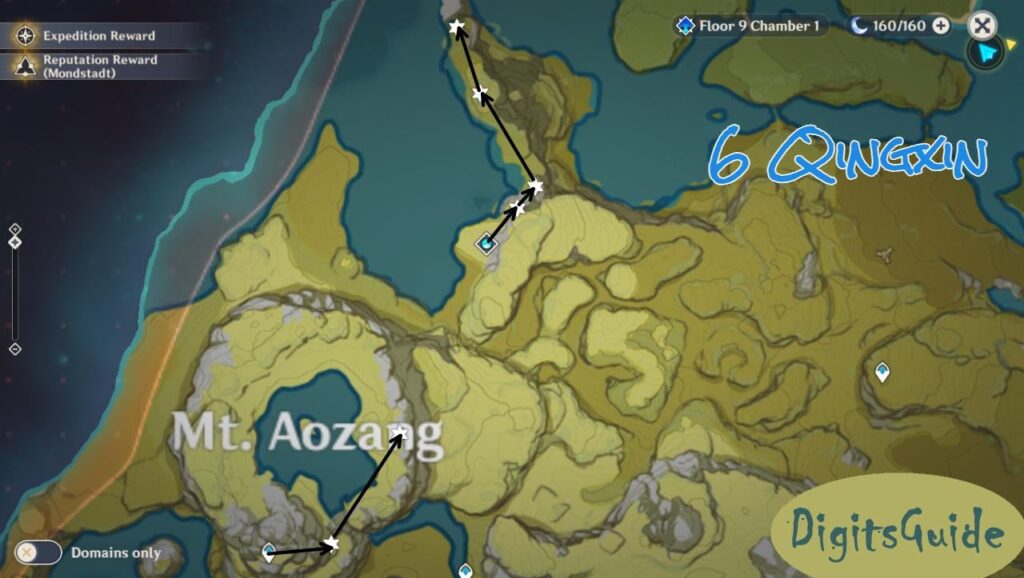 Mt.Aozang: There are total of 6 Qingxin Flowers around Mt Aozang. The farming route in this location is immensely linear. You need to start from teleport near Mt.Aozang and pick up flowers. For the next location just visit the nearest domain named "Clear Pool and Mountain Cavern"  Where you will grab 4 more Qingxin Flowers. 
Mt.Aozang 2: There is another route out there from Mt Aozang's teleport to seize around 13 or more Qingxing Flowers. Firstly, Visit Mt.Aozang teleport again and simply jump over to the nearest mountain of Huanguang Stone Forest(Ref to map Image Above). There are 6 big mountains in this zone and you will find plenty of Qingxin Flowers on 4 mountains (Demonstrated in the above Picture)
After that teleport to Mt.Hulao and pick up all the Flowers as shown in the above picture.
Qingyun Peak: There are 8 Qingxin Flowers in the Qingyun Peak area. This route is a bit awkward as you have to teleport 3 times to pick up 8 Qingxin Flowers. You may find it not valuable to pick up only 8 Qingxin Flowers after visiting 3 different locations. But these locations are also the easiest to farm flowers quickly because you will find all the flowers immensely close to teleports. 
First of all, Visit the Statue of Seven in Qingyun Peak and pick up 3 Qingxin Flowers on the statue of seven itself. After that go to Qingyun Peak's teleport and pick up more flowers. Your last location would be teleport below Qingyun Peak and Jueyun  Karst.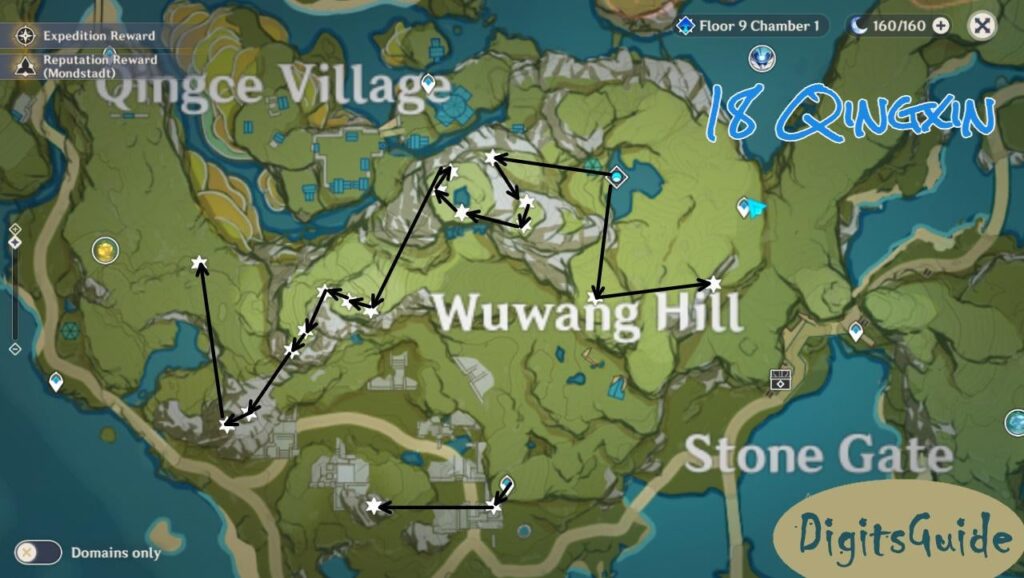 Wuwang Hill:  it would be your largest area to grab Qingxin Flower. Start your journey from Hill's teleport and go along all the way to the last path. (Follow the route in the above map image). In this zone, u will get exactly 18 Qingxin Flowers.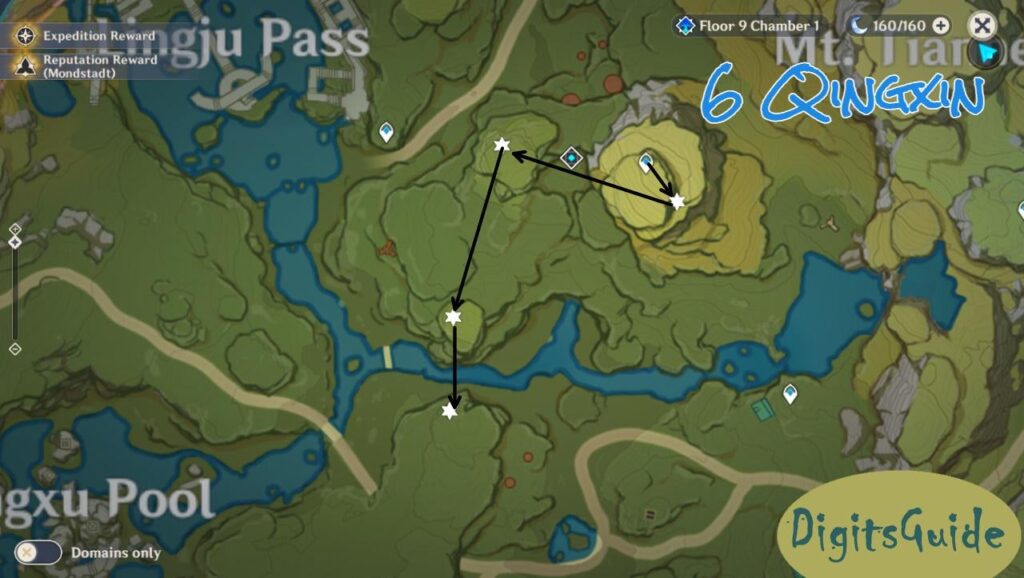 Lingju Pass: Visit the teleport between Lingju Pass and Mt. Tianheng. Don't visit other teleports to make things quick and fast. because the current location is the quickest and fastest of all (tested and verified). You will get around 6 Qingxin Flowers on this farming route.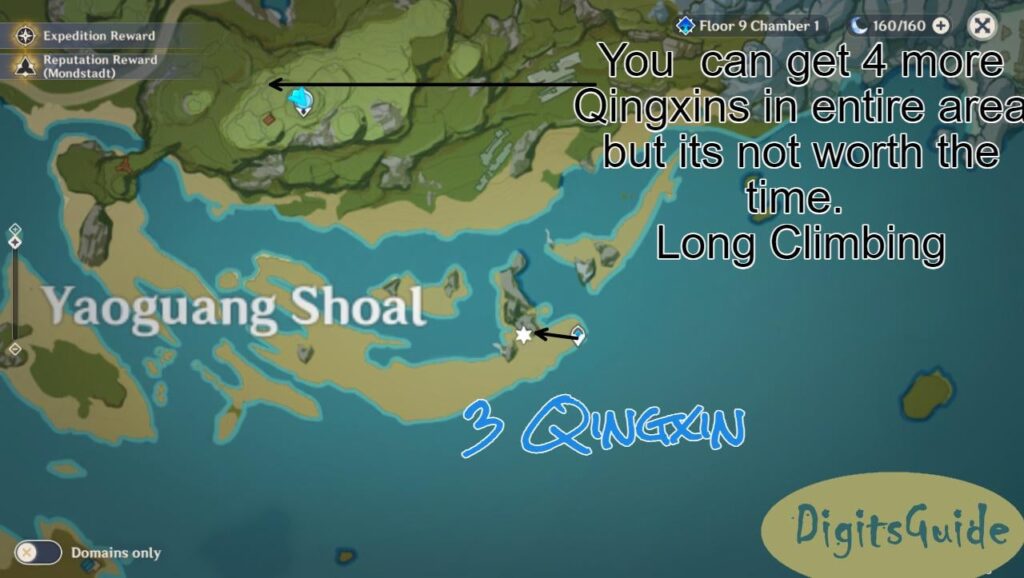 Yaoguang Shoal: One of the simplest and easiest places to grab 3 flowers in no time. Firstly, I was thinking to remove it from the route but eventually, I got it as worth a minute to collect 3 qingxin flowers very quickly. 
Note: Shoal contains more qingxin flowers on top of mountains but personally, I don't like to climb up huge mountains just to collect single flowers that's why I did not include those locations in my qingxin flowers farming route. Look at the map image for reference if you wanna collect a few more flowers lying around the Statue of Seven.
Sum Up: Well, This might not be the fastest route to farm Qingxin Flowers in Genshin Impact. And I really don't claim to finish this route in 5-6 minutes. Qingxin Flowers respawns after 48 hours. So, you can run the farming route after 2 days to stock up the flowers for Ganyu or for Xiao
I have uploaded step by step video guide on YouTube for the exact 54 Farming Route with the pinpoint location.  You can use the above map images to farm the flowers out there. But if you wanna watch out for each and every location one by one then I must suggest you watch out the complete video guide to farm qingxin flowers in genshin impact with ease. Here is the Video. in case you want:
Kindly comment below if you have any doubts or wanna discuss anything with me. Don't forget to follow us on Reddit, Youtube, and Instagram for more in-depth guides.