In this post, we are going to explain the best and easiest way to unlock Ophion in Vampire Survivors Tides of the Foscari in complete details and process.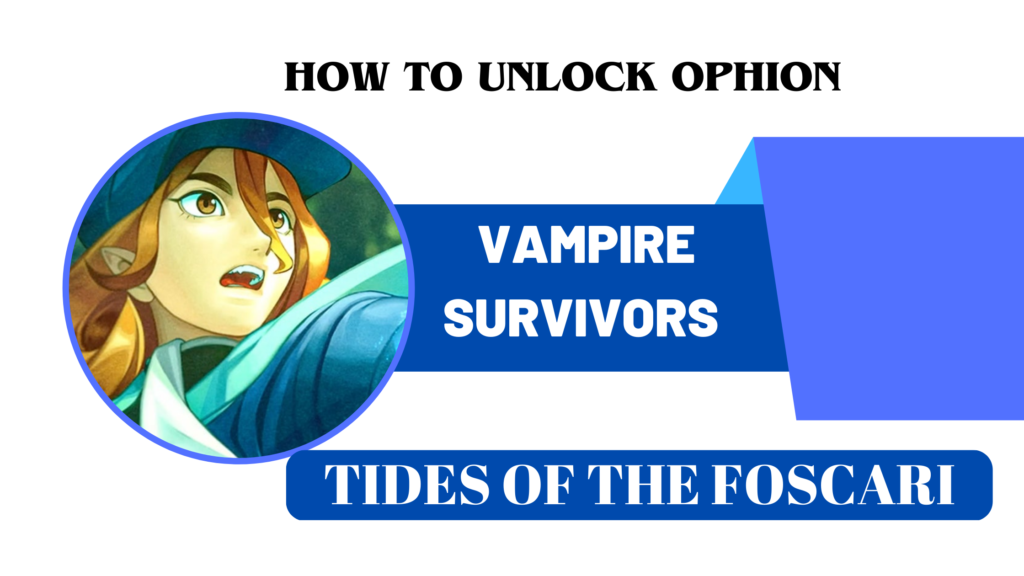 Vampire Survivors is the best survival game with minimalistic gameplay and rogue-lite elements. There are loads of rogue-lite games available over the internet but to be honest, none of them come close to the masterpiece of Vampire Survivors. This is one of the cheapest games available on the internet and provides one of the most powerful content to their users. They are adding quality DLC stuff at dirt-cheap prices like they just added Vampire Survivors Tides of the Foscari DLC.
Anyway, there are plenty of Guides available on Vampire Survivors Tides of the Foscari. We have covered VAMPIRE SURVIVORS content for our readers in the exclusive game category. But in this post, we are going to discuss How to unlock Ophion in Vampire Survivors Tides of the Foscari
How to unlock Ophion in Vampire Survivor
First, You need the weapon Shadow Servant along with Skull O'Maniac. But I'm sure you don't have Shadow Servant Weapon. If you already got the weapon skip this step, otherwise keep reading. For Shadow Servant you need to unlock Genevieve Gruyere, we have already discussed the process to unlock him in Je Ne Viv Guide. After this, follow these steps to Unlock Ophion
You need to use Genevieve Gruyere with the Shadow Servant weapon Skull O'Maniac.
Reach The maximum level of both weapon and skill maniac Level 8 and Level 5 respectively.
After that, you will get an option to evolve the weapon to THE Ophion.
Note:-Remember, You can get evolved weapon shadow Servant available for all other playable characters in the game but you need to play with Genevieve and survive for 15 minutes in any area.
Vampire Survivors has added a new DLC with a very low price and high-quality content called Tides of the Foscari. It's already out and available for the public which added new content and stuff like a new large stage, 8 new unique characters, 13 new weapons and evolutions, new musical tracks, 20+ new achievements and many more.
Well, you are not supposed to ask anything about content and quality when it comes to PONCLE because they always deliver. There are lots of other characters and weapons in the new expansion of the Vampire Survivors. You will need to complete specific tasks and achievements to unlock them one by one.
That's all about How to unlock Ophion in Vampire Survivors Tides of the Foscari. If you like this guide and want more content and guides on Vampire Survivors Then you can our Guides on Vampire Survivors Here.
If you Like to know how to unlock je ne viv