In the realm of soccer management, finding and nurturing young talents is a task that separates ordinary managers from the extraordinary. Football Manager 2024 brings forth a trove of wonderkids, those budding stars who are still flying under the radar, waiting to make their mark on the international stage. In this guide, we've delved deep into the depths of this soccer simulation game to present you with a list of hidden gems, the wonderkids who possess the highest potential skill ceiling. These are the players who can be the future superstars of your team, and they come at a price that won't break the bank.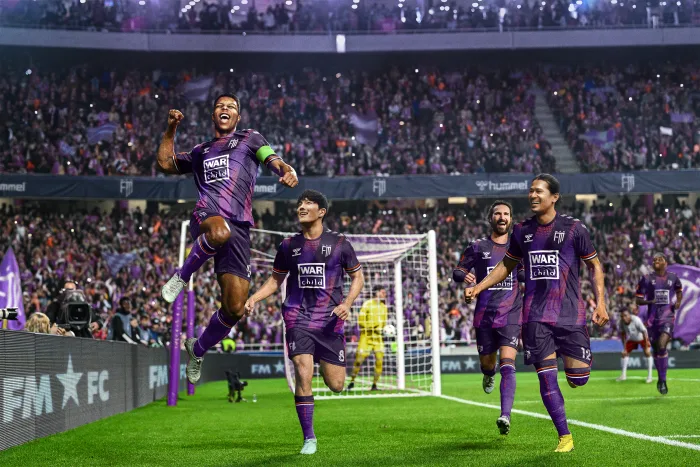 The Selection Criteria
Before we delve into the wonderkid list, let's establish the criteria we've used for this selection. Our focus has been on players aged 19 and below, ensuring that we identify those who are truly in the early stages of their careers. Furthermore, we've excluded the players who are already well-known in the soccer world and have had their international breakthroughs. This list is dedicated to the hidden gems, the talents that can be acquired without draining your budget.
Best Football Manager 2024 wonderkids
Lamine Yamal (Spain, Barcelona) – Age: 15, Rating: 3 Stars, Potential: 4 Stars
Mikey Moore (England, Tottenham) – Age: 15, Rating: 2 Stars, Potential: 4 Stars
Estêvão (Brazil, Palmeiras) – Age: 16, Rating: 1 Star, Potential: 4 Stars
Endrick (Brazil, Palmeiras) – Age: 16, Rating: 2 Stars, Potential: 4 Stars
Warren Zaïre-Emery (France, PSG) – Age: 17, Rating: 3 Stars, Potential: 4 Stars
Evan Ferguson (Ireland, Brighton) – Age: 18, Rating: 3 Stars, Potential: 4 Stars
Vitor Roque (Brazil, Athletico Paranaense) – Age: 18, Rating: 3 Stars, Potential: 4 Stars
Youssoufa Moukoko (Germany, Borussia Dortmund) – Age: 18, Rating: 3 Stars, Potential: 4 Stars
Alejandro Balde (Spain, Barcelona) – Age: 19, Rating: 3 Stars, Potential: 4 Stars
Giorgio Scalvini (Italy, Atalanta) – Age: 19, Rating: 3 Stars, Potential: 4 Stars
Rico Lewis (England, Manchester City) – Age: 18, Rating: 3 Stars, Potential: 4 Stars
Ethan Nwaneri (England, Arsenal) – Age: 16, Rating: 3 Stars, Potential: 4 Stars
Rodrigo Mora (Portugal, Porto B) – Age: 16, Rating: 2 Stars, Potential: 4 Stars
Noah Darvich (Germany, Barcelona B) – Age: 16, Rating: 2 Stars, Potential: 4 Stars
Shea Lacey (England, Manchester United) – Age: 16, Rating: 2 Stars, Potential: 4 Stars
Sverre Halseth Nypan (Norway, Rosenborg) – Age: 16, Rating: 2 Stars, Potential: 4 Stars
Kendry Páez (Ecuador, Independiente del Valle) – Age: 16, Rating: 2 Stars, Potential: 4 Stars
Lorran (Brazil, Flamengo) – Age: 16, Rating: 2 Stars, Potential: 4 Stars
Luís Guilherme (Brazil, Palmeiras) – Age: 17, Rating: 2 Stars, Potential: 4 Stars
Assan Ouédraogo (Germany, Schalke 04) – Age: 17, Rating: 2 Stars, Potential: 4 Stars
Archie Gray (England, Leeds) – Age: 17, Rating: 2 Stars, Potential: 4 Stars
Junior Kroupi (France, Lorient) – Age: 17, Rating: 2 Stars, Potential: 4 Stars
Simone Pafundi (Italy, Udinese) – Age: 17, Rating: 2 Stars, Potential: 4 Stars
Shaqueel van Persie (Netherlands, Feyenoord) – Age: 16, Rating: 2 Stars, Potential: 4 Stars
Iván Fresneda (Spain, Sporting CP) – Age: 18, Rating: 3 Stars, Potential: 4 Stars
Ben Doak (Scotland, Liverpool) – Age: 17, Rating: 2 Stars, Potential: 4 Stars
Ousmane Diomande (Ivory Coast, Sporting CP) – Age: 19, Rating: 3 Stars, Potential: 4 Stars
Julien Duranville (Belgium, Borussia Dortmund) – Age: 17, Rating: 2 Stars, Potential: 4 Stars
Paul Wanner (Germany, Elversberg) – Age: 17, Rating: 2 Stars, Potential: 4 Stars
João Veloso (Portugal, SL Benfica) – Age: 18, Rating: 2 Stars, Potential: 4 Stars
João Rêgo (Portugal, SL Benfica) – Age: 18, Rating: 2 Stars, Potential: 4 Stars
Désiré Doué (France, Rennes) – Age: 18, Rating: 3 Stars, Potential: 4 Stars
Jorel Hato (Netherlands, Ajax) – Age: 17, Rating: 3 Stars, Potential: 4 Stars
Eliesse Ben Seghir (France, Monaco) – Age: 18, Rating: 3 Stars, Potential: 4 Stars
Mathys Tel (France, FC Bayern) – Age: 18, Rating: 3 Stars, Potential: 4 Stars
Rodrigo Ribeiro (Portugal, Sporting CP B) – Age: 18, Rating: 2 Stars, Potential: 4 Stars
Badredine Bouanani (France, Nice) – Age: 18, Rating: 2 Stars, Potential: 4 Stars
Guillaume Restes (France, Toulouse) – Age: 18, Rating: 2 Stars, Potential: 4 Stars
Claudio Echeverri (Argentina, River) – Age: 17, Rating: 2 Stars, Potential: 4 Stars
Stefan Bajčetić (Spain, Liverpool) – Age: 18, Rating: 3 Stars, Potential: 4 Stars
Arda Güler (Turkey, Real Madrid) – Age: 18, Rating: 3 Stars, Potential: 4 Stars
Oscar Gloukh (Israel, RB Salzburg) – Age: 19, Rating: 3 Stars, Potential: 4 Stars
Ângelo (Brazil, Strasbourg) – Age: 18, Rating: 3 Stars, Potential: 4 Stars
Yaser Asprilla (Colombia, Watford) – Age: 19, Rating: 3 Stars, Potential: 4 Stars
Alejandro Garnacho (Argentina, Manchester United) – Age: 19, Rating: 3 Stars, Potential: 4 Stars
Samuel Iling (England, Juventus) – Age: 19, Rating: 3 Stars, Potential: 4 Stars
Valentín Barco (Argentina, Boca Juniors) – Age: 18, Rating: 3 Stars, Potential: 4 Stars
João Neves (Portugal, SL Benfica) – Age: 18, Rating: 3 Stars, Potential: 4 Stars
Michael Kayode (Italy, Fiorentina) – Age: 18, Rating: 3 Stars, Potential: 4 Stars
Mohamed-Ali Cho (France, Real Sociedad) – Age: 19, Rating: 3 Stars, Potential: 4 Stars
Alex Scott (England, Bournemouth) – Age: 19, Rating: 3 Stars, Potential: 4 Stars
António Silva (Portugal, SL Benfica) – Age: 19. Rating: 3 Stars, Potential: 4 Stars
Rayan Cherki (France, Lyon) – Age: 19, Rating: 3 Stars, Potential: 4 Stars
Roméo Lavia (Belgium, Chelsea) – Age: 19, Rating: 3 Stars, Potential: 4 Stars
Karim Konaté (Ivory Coast, RB Salzburg) – Age: 19, Rating: 3 Stars, Potential: 4 Stars
Wilfried Gnonto (Italy, Leeds) – Age: 19, Rating: 3 Stars, Potential: 4 Stars
Andreas Schjelderup (Norway, FC Nordsjµlland) – Age: 19, Rating: 3 Stars, Potential: 4 Stars