The internet landscape is buzzing with the intense feud between two YouTube giants – SSSniperWolf and JacksFilms. Here's a comprehensive breakdown of the unfolding saga:
SSSniperWolf, a renowned YouTuber celebrated for her reaction videos, found herself in the crosshairs of fellow content creator JacksFilms. His bone of contention? Allegations that SSSniperWolf was appropriating the hard work of other creators in her reaction videos. This debate echoes similar concerns raised earlier this year about the 'reaction-style' content genre, notably involving streamer xQc.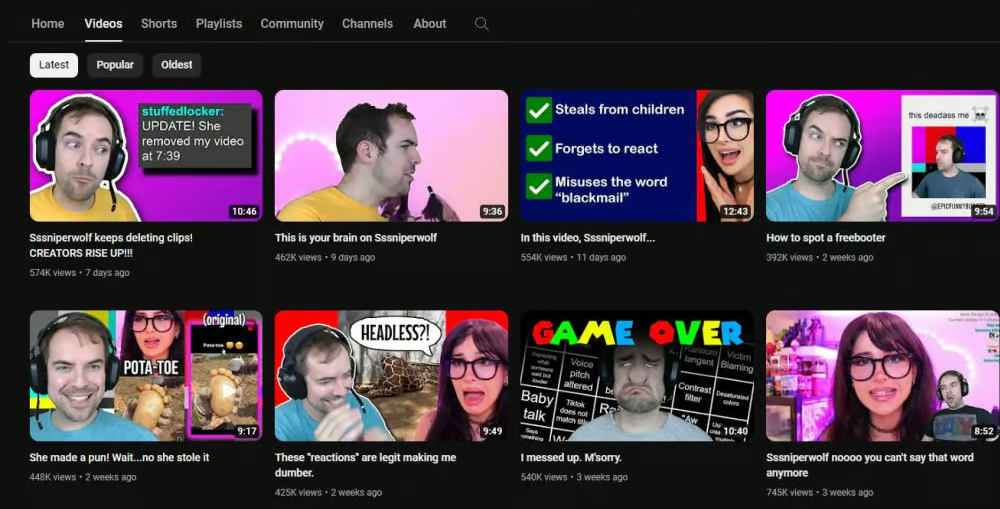 In a bold move, JacksFilms launched a secondary channel in 2022 solely dedicated to poking fun at SSSniperWolf. Over the past two months, he escalated the situation by uploading a staggering 40 videos reacting and commenting on SSSniperWolf's content.
Tensions reached their peak in the summer of 2023 when SSSniperWolf retaliated via a series of fiery tweets. She accused JacksFilms of being unable to handle a female YouTuber surpassing him in views.
The conflict took a dark turn when SSSniperWolf, in response to JacksFilms' continuous videos about her, doxxed his house in an Instagram story. This drastic escalation added a new dimension to their ongoing battle.
Stay tuned as we navigate through the twists and turns of this gripping YouTube drama, unfolding in real-time on the digital stage.
SSSniperWolf's Controversial Visit to JacksFilms' Residence: Unraveling the Dram
In a surprising turn of events on October 14, SSSniperWolf sparked controversy by posing a question to her Instagram followers. She asked whether she should visit JacksFilms' home, citing its proximity to her filming location. Despite keeping the poll results confidential, SSSniperWolf proceeded to show up at JacksFilms' residence.
Shortly after the poll, a story appeared on SSSniperWolf's Instagram, featuring a somewhat obscured image of JacksFilms' house. The caption conveyed a seemingly diplomatic tone: "Let's talk like adults @jacksfilms." However, the situation took a concerning twist as the photo was taken down after posting, though not before vigilant users captured screenshots.
JacksFilms took to Twitter to confront SSSniperWolf, accusing her of doxxing by filming his home and sharing it with her 5 million-plus Instagram followers. The online community reacted with sympathy towards JacksFilms, with some suggesting that such actions could potentially lead to a criminal investigation.
"I have no ill intentions"

Sssniperwolf, you showed up to our home tonight and filmed it for your 5M+ IG followers to see. That's called doxxing.

The "harassing" you claim I've been doing is documenting recent examples of you stealing creators' content, stealing jokes, and… pic.twitter.com/RsSIrI17ae

— jacksfilms (@jacksfilms) October 14, 2023
Facing backlash, SSSniperWolf defended her actions by highlighting the 40 videos JacksFilms had posted about her in the past two months. In response to the criticism, she questioned the ethics of his YouTube content, asking, "Is this really the only way you can get views? Don't you have a wife?"
She ends this with, "Should I get a restraining order?"

Well, one of us showed up to the other's house tonight…and it wasn't me…hmmm…. pic.twitter.com/rG8uhWlvhq

— jacksfilms (@jacksfilms) October 14, 2023
Stay tuned as we navigate through the aftermath of this unexpected chapter in the ongoing feud between SSSniperWolf and JacksFilms.
JacksFilms demands YouTube take action against SSSniperWolf
In the aftermath of SSSniperWolf's controversial visit to his home, JacksFilms swiftly turned to Twitter to publicly address the situation. He unequivocally demanded that YouTube take decisive action against SSSniperWolf for what he deemed as doxxing. JacksFilms urged the platform to consider demonetizing her content or, in an extreme move, removing her account entirely.
Sssniperwolf just doxxed me on her IG.

Creepy, gross, violating.

What you do is disgusting. You steal content AND stalk youtubers. @YouTube demonetize this dangerous "creator" or just get her off your platform. She posted an IG story right outside our home and deleted it. pic.twitter.com/dxuXWGM7wv

— jacksfilms (@jacksfilms) October 14, 2023
Expressing his dismay, JacksFilms stated, "SssniperWolf just doxxed me on her IG. Creepy, gross, violating. What you do is disgusting. You steal content AND stalk YouTubers. YouTube, demonetize this dangerous 'creator' or just get her off your platform. She posted an IG story right outside our home and deleted it."
Notably, other prominent YouTubers, including OTK founder Asmongold, rallied behind JacksFilms, supporting his call for SSSniperWolf's demonetization. Asmongold condemned the situation, deeming it "unacceptable" and asserting that anyone using their platform for doxxing and putting a person's family in physical danger deserves to be deplatformed.
This Twitter storm adds another layer to the escalating conflict between SSSniperWolf and JacksFilms, bringing the issue into the broader conversation within the YouTube community.
YouTube comes under fire for inaction over SSSniperWolf situation
In the aftermath of the SSSniperWolf and JacksFilms saga, viewers voiced their dissatisfaction with YouTube's conspicuous silence on the matter. Criticism intensified when the platform posted a tweet that many deemed "tone deaf" during the height of the drama. The tweet, which pondered the idea of a reaction video to another reaction video, drew ire for its perceived insensitivity.
As the controversy unfolded, prominent figures within the YouTube community expressed concern that YouTube would take no action against SSSniperWolf for her actions. MoistCr1tikal went on record, expressing a fear of potential "favoritism" towards SSSniperWolf and conveying the assumption that the platform might opt for inaction.
would it be too meta to do a reaction video to a reaction video

— YouTube (@YouTube) October 18, 2023
This silence from YouTube further fueled the debate surrounding content creator accountability and raised questions about the platform's stance on inappropriate behavior. The community eagerly awaits YouTube's response, hoping for a resolution that addresses the concerns raised during this tumultuous chapter in the YouTube landscape.
YouTube "temporarily" demonetizes SSSniperWolf's channel
After days of public outcry, Team YouTube's official Twitter account addressed the SSSniperWolf controversy on October 20, delivering a long-awaited response. The statement acknowledged that SSSniperWolf had been subjected to a "temporary" demonetization due to actions undertaken outside the platform.
Confirming SSSniperWolf has received a temporary monetization suspension per Creator Responsibility policies. Off platform actions that put others' personal safety at risk harm our community & the behavior on both sides isn't what we want on YT. Hoping everyone helps move this…

— TeamYouTube (@TeamYouTube) October 20, 2023
"Confirming SSSniperWolf has received a temporary monetization suspension per Creator Responsibility policies," stated Team YouTube on Twitter. The decision was grounded in the recognition that off-platform actions endangering personal safety have a detrimental impact on the YouTube community. The statement emphasized a commitment to maintaining a positive and safe environment on the platform, expressing a desire for a more constructive discourse.
This move marks YouTube's first official intervention in the ongoing conflict, leaving the community to reflect on the implications for content creator accountability and the platform's dedication to fostering a responsible and secure digital space.
SSSniperWolf apologizes to JacksFilms after demonetization
In the aftermath of her temporary demonetization by YouTube, SSSniperWolf took a significant step by issuing an official apology. Recognizing the gravity of her actions, she characterized her behavior as "inexcusable" and directed a heartfelt apology to her fans, expressing remorse for not setting a better example in conflict resolution.
In this statement, SSSniperWolf acknowledged the responsibility that comes with her platform and the impact her actions can have on her audience. By admitting fault and expressing a commitment to learning from the experience, she aims to rebuild trust with her followers and move towards a more positive and responsible online presence.
This apology marks a pivotal moment in the ongoing narrative, prompting reflection on the broader themes of accountability and personal growth within the YouTube community.
Let me start by saying I'm sorry for my recent actions; it is inexcusable. I'm sorry to Jacksfilm, YouTube, the entire creator community, and my incredible fans for not being a better example for appropriate conflict resolution. Jacksfilm, while we certainly don't see eye to eye…— Lia (@sssniperwolf) October 20, 2023