In this post, I'm going to share the best Nahida Build Guide of Genshin Impact. Which Includes Nahida Build, Team, Weapon & artifact Set.
Nahida is an Archon from Sumeru. She is Dendro Catalyst's 5-star character who nourishes Dendro applications very repeatedly and consistently. She can perform as a proper DPS, but a super effective Sub DPS and exceptional Support.
Strengths & Weakness Of Nahida Build
Genshin Impact has lots of playable characters and they are adding even more and more characters on regular basis. Right now, we have 70+ playable characters. Every character has its own strengths and weaknesses. So, here are the same details of Nahida Build, Teams and Guide.
Strengths Of Nahida Build
She is so adorable, attractive and endearing.
Elemental Burst has a wide AoE.
Consistent Dendro infliction through Elemental Skill.
Great off-field damage dealer
Super powerful Elemental Skill and Elemental Bursts.
Super Viable and Versatile to Play all Dendro teams.
Elemental Mastery increases its CRIT Rate and DMG making her easier to build.
Weakness Of Nahida Build
Burst does not deal damage.
Very reliant on Dendro reactions.
The average unit outside the dendro-based reaction
Niche Specific Unit.
Very low on HP.
Nahida can be played as off-field DPS or on-field DPS. As I said earlier, if I rank her with different roles then she would be :
S Tier as DPS
SS Tier s Sub DPS
SS Tier as Support
SS Tier as Exploration
Nahida Tier Ranking
Nahida's Talent Priority
First of all, You have to get her to Level 90 because she does a lot of damage with elemental reactions. Secondly, She does maximum damage from her skill and her elemental burst is one of the best talent skills of the game. You should always level up or even crown the Elemental Skill and Burst.
You are advised to level up Normal Attack only and only if you are going to use her as an on-field DPS. otherwise, only Skill and Burst are sufficient to get the best out of her. here is the talent priority you should aim for while levelling her:
Skill > Burst > Normal Attack
| | | |
| --- | --- | --- |
| Sr No | Main DPS | Support and Sub DPS |
| 1st | Normal Attack | Elemental Skill |
| 2nd | Elemental Skill | Elemental Burst |
| 3rd | Elemental Burst | Normal Attack |
Nahida Sub Dps & Support Build
Nahida is a very versatile unit and works best when built as sub-dps and supports DPS. She needs lots of Elemental Mastery, that's why we use EM on Sands, Goblet & Circlet. You should aim for 800 elemental mastery for Nahida Since her passive lets any character share their Elemental Mastery with the character on-field.
In this Build, You will be playing as on-field DPS Nahida. You will not need so much elemental mastery from main stats and you would consider elemental damage and crit stats. In this build, Nahida can utilize all other on-field dendro related reactions like Spread and Aggravate. It can also utilize all the variants of Bloom too like Standard Bloom, Hyperbloom, Burgeon, and Burning.
Nahida BEST Artifacts Set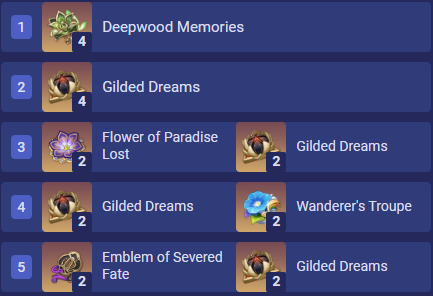 There is no doubt Deepwood Memories is the best in slot 4pc artifact set for Nahida. (if no other teammate is using it at all). if you have anyone else using it then you would be better to use 4 PC Gilded Dreams as it can work even better for Nahida. but she always needs to trigger the dendro reaction if you wanna utilize the 4pc bonus at best.
Other 2pc set pieces are also viable and can make things easy too but still 4 piece artefact set works a bit better for Nahida because of set bonuses.
We have already discussed the best weapon for Nahida with different builds. Now, I'm going to discuss best the team for Nahida. I'll cover the best team for Nahida Guide in different posts but for now, I will give a bit of brief about the best team for Nahida.
Nahida Best Teams Genshin impact
There are some unstoppable teams available to run with NAHIDA. I'll give the brief information about the Nahida best Team Comp and if you want to proceed with the full Nahida Team Comps Guide then kindly Visit the Nahida Team Guide Here.
Nahida Hyperbloom Team On Field
Nahida Creates lots of Dendro Cores. She will be the best Dendro Unit for any Hyperbloom unit. You should pick the 4 PC artifact carefully for this team comp. You need one electro character who can deal electro damage within a short period of time. You need to spam EM on electro characters as much as possible. Last but not least, You need a healer for sure to get the best healer of the game in the team but remember not to mess up the team comp. You can pick Kokomi, YaoYao or maybe Barbara.
Nahida and Nilou Team Bloom Team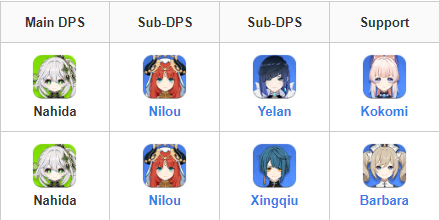 Nahida works very well with Nilou's bountiful Core bloom team. Nahida will work as on field damage dealer and dendro applier. She can perfectly apply lots of dendro damage to make lots of bountiful cores. Remember– You need a perfect and pure healer in this team otherwise, Bloom can kill the entire team in a short period of time.
Nahida Off-Field Aggravate Team
One of the best teams to utilize the power of Nahida as off-field Support and sub-DPS where she is going to utilize A1 and A4 passive at best. Cyno, Raiden and Keqing (with some Cons) work very well for Aggravate reactions. You can use other Sub-DPS electro characters like Fischl, Miko and Beidou. There is an open room for any Anemo support character for VV shred.
Aggravate has lots of open options to make the best team on this reaction. I have personally used Yae Miko as the Main DPS with Nahida Albedo and Zhongli as support. and Belive me this Aggravate Team Comp performed exceptionally way better and above my expectations.
Nahida OFF Field Hyperbloom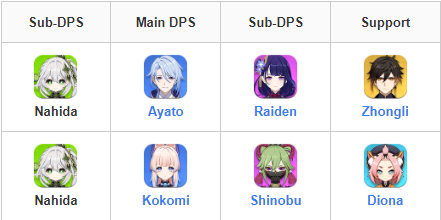 Perhaps, this is the most popular and well know Hyperbloom Team of NAHIDA. There are plenty of options to try the Hyperbloom team but we are going to discuss the two mentioned teams.
Nahida will work as a pure support and sub-DPS. She will be dealing plenty of damage along with passing the buff to active characters with her A1 and A4 passive. Nahida, Ayato, Baal and Zhongli team is the most destructive Hyperbloom Reaction. Even though it has Zhongli's Shield to protect it from damage but still sometimes needs a healer more than there things
Nahida, Kokomi, Kuki & Diona can never get you to die for sure. but it may decrease the damage by a little bit.
I hope I have covered more than enough about the Nahida Build artifact set and the best team. If you are looking for a Depth Build and Teams Guide for Nahida. Then you can check out our other posts on the blog in Genshin impact category.