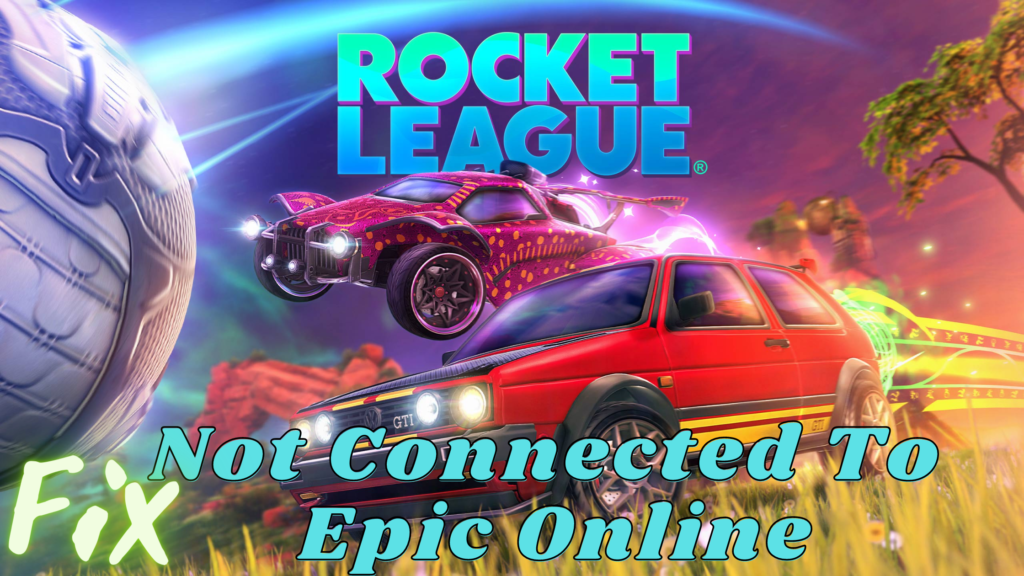 Here is how to solve the "not connected to Epic Online Services" in Rocket League.
Rocket League is one of the best online competitive games to date. This game contains lots of features, modes, and challenges to complete. But there are some issues that can be annoying for users, and" not connected to Epic Online Services" is one of them. Lots of people facing this issue and the still developer does not patch it yet, in reality, this error is the most annoying and irritating thing in a rocket league game.
How to Fix Rocket League Not Connected To Epic Online Services
so, in this post, we are going to explain and guide you to fix this issue as soon as possible. There are plenty of ways to test and verify the issue to fix it with the best approach. There is some invalid and useless method available on websites blogs and video channels. Kindly avoid them and follow the best, trustable and official source.
Sign in to your Epic Games Account Again

Open Rocket League's official website Here
Click on "Check Setup".
Now, enter all your login credentials and continue.
Start Rocket Launcher and examine it if you're still facing the same issue.
Change Date and Time – Rocket League Not Connected To Epic Online Services

This is one of the most popular and working methods to fix the issue because this fix is provided by the officials themself. So, you can give it a try and see if it Fixes the Rocket League Not Connected to Epic Online Service issue.

On PC
Select the "Adjust Date/Time" option from the "Time Icon".
Next, turn on the "Set Time Automatically" button.
Finally, click on the "Sync Now" button.

On PS4
Select "Date and Time>Date and Time Settings".
Select the "Set using Internet" option.
You can also change the time manually but ensure that it is accurate.

On Xbox
For Xbox, it's a bit straightforward.
Go to the "Settings" screen. Select "System>Time".
Now, Tick the "Automatically adjust for daylight saving time."

Note: Check if Rocket League Services are Running
Reinstall Rocket League and Epic Games Launcher

Well, If Nothing works then last but not least, go to the official website of rocket Launch and download the launcher again.
Kindly keep in mind that you need to uninstall the launcher from your computer first and then reinstall it to fix the issue. I know it sounds way simple but this fix has a maximum success ratio in all listed methods.

Now, I'm closing the [Fix] Rocket League Not Connected To Epic Online Services. and I hope you are able to fix the issue with one of our above-listed methods, But still, if you are not able to fix it and still facing the issue then let me know in the comment section. I'll try to diagnose the issue for you on your system to provide you the best solution to fix Rocket League Not Connected To Epic Online Services